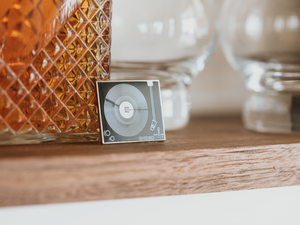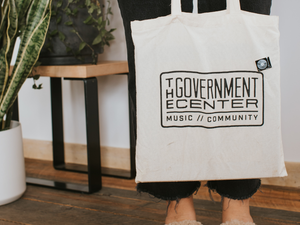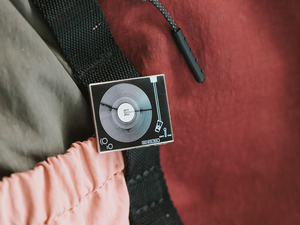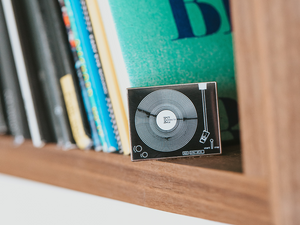 Turntable Enamel Pin
Meet the perfect gift for the vinyl person in your life (which might be you). This Turntable Enamel Pin is based on a vintage turntable design and makes for the ideal accessory for anyone who loves vinyl, is into music, or just loves the aesthetic. Made from hard enamel with a gloss finish, the quality is what you hope for when you order a pin. Put it on your favorite record tote, your work bag, your backpack, clothing, wear a pair like cufflinks, use them as earrings (we don't recommend, but no bad ideas in brainstorming), and get ready to spin. 
Dimensions: 1.25" x 1"
About Deep Cut

Shipping Details
Deep Cut products are handcrafted in small batches to the last detail in our Minnesota woodshop. We make things that help you get more enjoyment out of your home. Records, books, plants, cocktail culture, the kitchen, games - if it helps you get joy from your space, we want to help and with style. We source the most premium hardwood materials from local suppliers and do everything we can to preserve the natural beauty of those materials while making things that will last. Each piece is designed to be easy to install for most DIY skill levels in a variety of environments.
Deep Cut products are made produced in small batches with tender love and care. Although most orders ship within 1 - 4 business days, production scheduling can vary. Please allow 3 - 7 business days for for orders to be fulfilled within the US market.
NOTE: Walnut Wall Cubes are currently 2 - 4 weeks out from shipping. For more info, please contact rich@deepcut.co
Domestic Orders: We use UPS Ground as our primary carrier services for most shipments. These services typically deliver between 2 - 5 business days. For some products, you will be given the option of USPS First Class OR UPS Ground. USPS First Class also generally delivers within 2 - 5 days of shipment.
International Orders: We use USPS International Priority or UPS International depending on the destination and product. Delivery timelines are very difficult to guarantee based on current global logistics. All duties, taxes, and other fees associated with the destination countries policy are the responsibility of the purchaser.
---