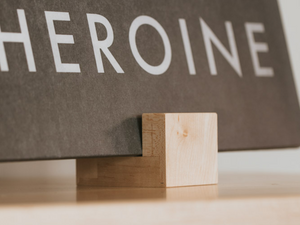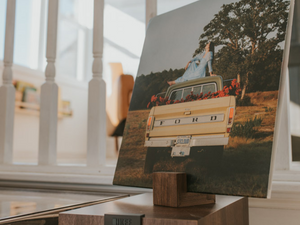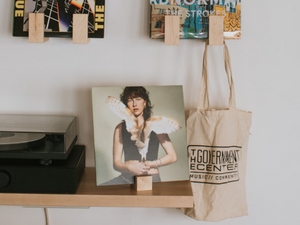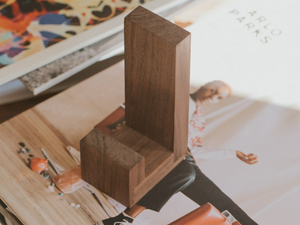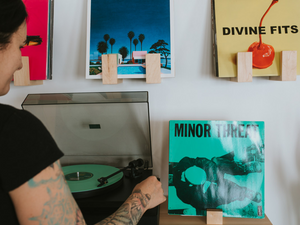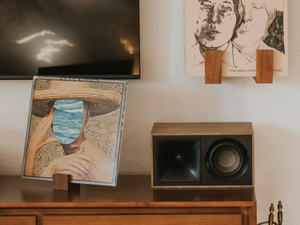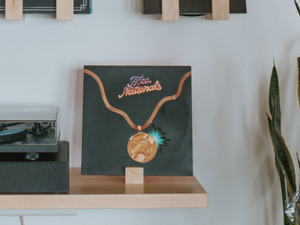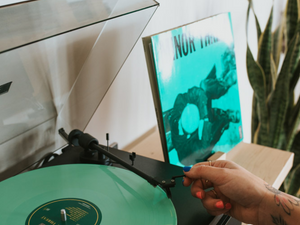 Shop All
Tabletop Record Stand
Discover our handmade Tabletop Record Stand and proudly display your favorite records in 100% hardwood on any flat surface. Cheap ply(wood) need not apply. Enjoy a timeless look and feel with this clean yet stylish record display piece. Showcase your favorite albums as they play and let them stand out, literally. Intentionally simple. Simply Intentional. 
Handcrafted in small batches with heirloom quality
No assembly, ready to use out of the box

Features Deep Cut's signature miterfold joint allowing for hardware free construction (no ugly nails / screws) and continuous woodgrain flow over joints.
Order includes a single stand
Available in walnut and hard maple
Dimensions / Specs - Tabletop Record Stand

FAQ - Tabletop Record Stand

About Deep Cut

Shipping Details
Dimensions / Specs - Tabletop Record Stand
Height: 5-3/4 inches tall
Width: 2 inches wide
Depth: 2.5 inches deep (1 inch internally, where the record sits)
Weight: ~.5 lbs
FAQ - Tabletop Record Stand
"How many records can it hold?" It depends on the specific records, but generally, it can comfortably hold 1 - 2 records at a time. Really it works best with a single record though.
"Can I put it on top of my speakers?" There are many who would likely advise against this because of the vibration, but we personally aren't very rigid about that kind of thing. Be mindful though that, especially if played at higher volumes for extended periods of time, the record stand will likely move and eventually fall off. In short, up to you, but if you do, keep an eye out.
"Which wood is which?" The darker brown wood in the pictures is walnut whereas the lighter tan wood is hard maple.
"Do they come stained? Can I stain or paint them?" Our products are not stained or painted, but they are sealed using solvent-based polyurethane to protect them from moisture, sun damage, and to bring out the natural rich color of the wood. They, therefore, cannot be stained. However, they can be painted. Please consult your local hardware store or paint expert for details.
Deep Cut products are handcrafted in small batches to the last detail in our Minnesota woodshop. We make things that help you get more enjoyment out of your home. Records, books, plants, cocktail culture, the kitchen, games - if it helps you get joy from your space, we want to help and with style. We source the most premium hardwood materials from local suppliers and do everything we can to preserve the natural beauty of those materials while making things that will last. Each piece is designed to be easy to install for most DIY skill levels in a variety of environments.
Deep Cut products are made produced in small batches with tender love and care. Although most orders ship within 1 - 4 business days, production scheduling can vary. Please allow 3 - 7 business days for for orders to be fulfilled within the US market.
NOTE: Walnut Wall Cubes are currently 2 - 4 weeks out from shipping. For more info, please contact rich@deepcut.co
Domestic Orders: We use UPS Ground as our primary carrier services for most shipments. These services typically deliver between 2 - 5 business days. For some products, you will be given the option of USPS First Class OR UPS Ground. USPS First Class also generally delivers within 2 - 5 days of shipment.
International Orders: We use USPS International Priority or UPS International depending on the destination and product. Delivery timelines are very difficult to guarantee based on current global logistics. All duties, taxes, and other fees associated with the destination countries policy are the responsibility of the purchaser.
---